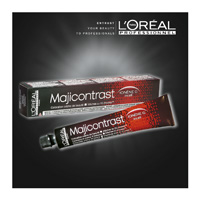 L OREAL
❤️


MAJICONTRAST - beauty cream
Hair Color
---
New professional E-COMMERCE
for m & egraveches colorful and partial effects without discoloration prior
MAJICONTRAST service allows you to make fast, 15 minutes, in a single gesture. Ideal for dark bases (funds 1-2-3-4-5) natural or colored. The pigments Hicroma content in the innovative formulation, larger and cationic, allow the color to penetrate into the hair fiber and fixed in depth, so as to obtain intense reflections and long lasting. Thanks to the ionene G, the polymer which covers the surface of the hair with a protective filter, ensures maximum care of the hair.
Nuances
copper, copper - red, red, pure copper, magenta.
Method of use :
mix 1/2 tube of cream MAJICONTRAST with 37.5 ml of
- Oxydant 2 to 30 volumes of natural bases 4 (brown) and 5 (light brown) ;
- Oxydant 3 to 40 volumes of natural bases 1 (black), 2 (brown), 3 (dark brown) and colored hair.
The exposure time is 15 minutes under a heat source and 30 minutes without heat.
Pack
50 ml tube.