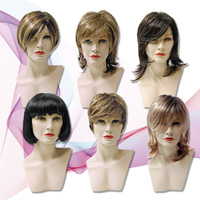 HAIR TRADE
❤️


SYNTHETIC WIGS FOR LAST
Extension for hair
---
---
PARRUCCHE SINTETICHE DI ULTIMA
GENERATION
The line of synthetic wigs that offers Hair Trade Italy, was built with high quality material very similar to the hair, which combined with modern colors and styling becomes a viable alternative to natural wig.
In problems that require the use of wigs for short periods, such as in chemotherapy treatments, synthetic wig becomes advantageous because :
• Immediate availability of the wig.
• Easy portability wig less weight than natural hair.
• The visual effect that is natural and highly satisfactory despite the lower price compared to a wig in natural hair.
---
Rate this product:
30 click
Viewed 121072 times
+3903311706328
Download PDF
Products for hairdressers